CCHS Drama Program
The drama program offers 2-3 productions per academic year. These productions are extracurricular activities with practices held after school or in the evening. All high school students are welcome to participate. Eligibility requirements apply.
---
FALL PLAY
Calvin Christian High School Drama Department proudly presents: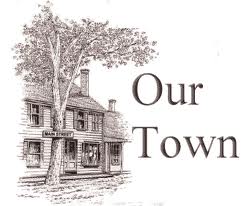 The students of the Calvin Christian High School drama program would like to invite the community to enter into the small town of Grover's Corners and explore life, love, and death with its distinctive people. Though at first glance it seems like a simpler time, in reality. It poignantly echoes what is experienced by each of us during our walk on this earth. Laugh, cry, love, and live life with us this October as the students turn the Heritage Center into a charming town that is all our own.
Purchase tickets for Saturday, October 6 - Friday, October 12 - Saturday, October 13
Showtime: 7:00 PM
CCHS PAST PERFORMANCES
The Wizard of Oz, 2018 Spring Musical
Arsenic and Old Lace, 2017 Fall Drama
Annie Warbucks, 2017 Spring Musical
In 25 Words - Or Death, 2016 Mystery Dinner Theater
The Importance of Being Earnest, 2016 Fall Drama
You're a Good Man Charlie Brown, 2016 Spring Musical
Just Desserts, 2015 Mystery Dinner Theater
Spirit!, 2015 Fall Drama
Dead Giveaway, 2014 Mystery Dinner Theater
Breath of Spring, 2014 Fall Drama
Little Women, 2014 Spring Musical